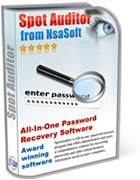 SpotAuditor
Advanced Password Recovery Solution! 29.50$
SpotAuditor - All-in-one password recovery program in the single package. Great value for money!

SpotAuditor is Windows utility that offers administrators and users a comprehensive solution for recovering passwords and other critical business information stored in users' computers. SpotAuditor recovers Opera browser,Mozilla Firefox, Internet Explorer, Outlook, Outlook Express, MSN messenger, Windows Live Messenger, Google Talk, ICQ, VNC, Dial up, RAS, VPN, Trillian, Miranda IM, &RQ, Camfrog Video Chat, Easy Web Cam, RDP, Total Commander (Windows Commander), Far ftp client, WS_FTP, CuteFTP, File Zilla, FlashFXP, SecureFX, WebDrive, FFFTP, FTP Voyager, CoffeeCup Direct FTP, AutoFTP, FTP Control, CoreFTP, FTP Navigator, 32bit FTP passwords, recovers passwords stored behind the asterisks (****).